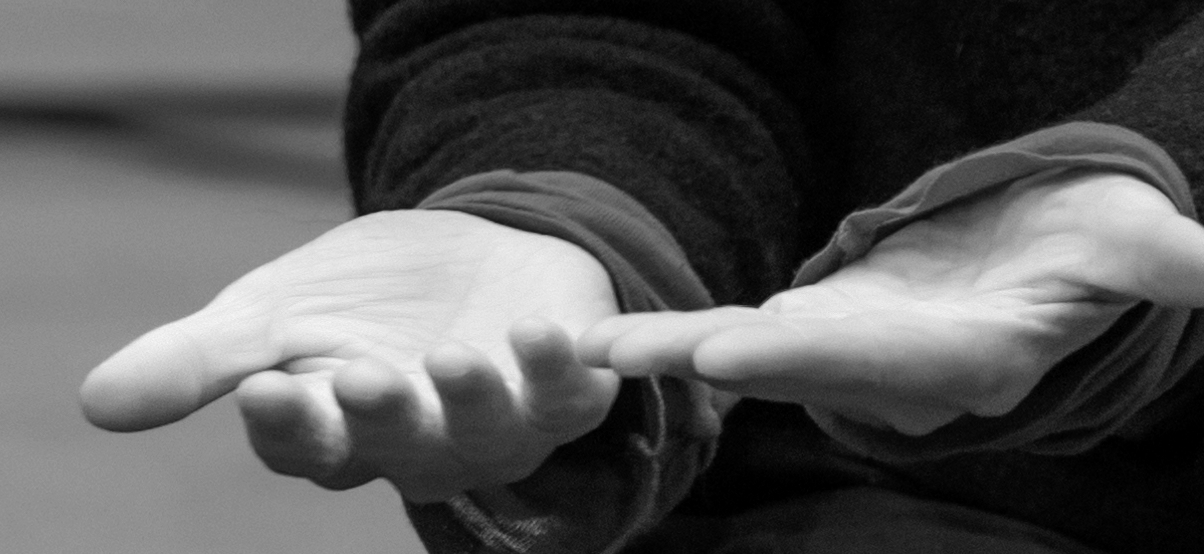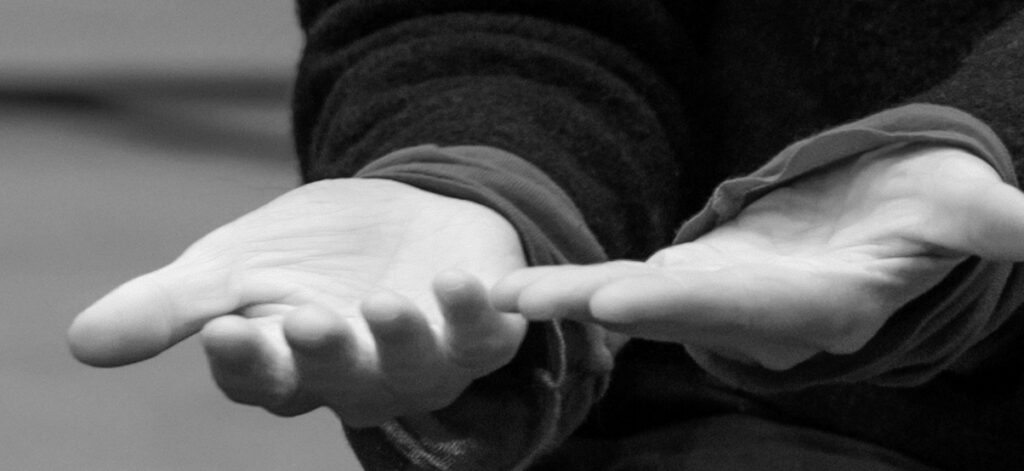 Trauma-sensible intégration
Trauma-sensitive integration
Liveliness is expressed from the inside out: in a dynamic that combines softness, clarity, flexibility & creative power. A traumatic experience disconnects us from this original state. Movement, curiosity, and the spirit of exploration are then governed by a control that limits our actions & hinders the evolution of our Being.
La vivacité s'exprime de l'intérieur vers l'extérieur : selon une dynamique qui unit douceur, clarté, souplesse & puissance de création. Une expérience traumatisante nous déconnecte de cette donnée originelle. Mouvement, curiosité & esprit d'exploration sont alors régis par un contrôle qui limite nos actes & entrave l'évolution de notre Être.
Understanding this phenomenon has given me insight into my own story. It has been the key to doors I thought were definitely closed. My case is not isolated. Many lives (of artists) take place on the shadow side because their author does not fully estimate their existence, nor work, at the height of its legitimacy.
La compréhension de ce phénomène m'a éclaircie sur ma propre histoire. Elle a été la clé à des portes que je croyais condamnées. Mon cas n'est pas isolé. Beaucoup de vies (d'artistes) défilent dans l'ombre, du fait que l'auteur/trice n'ose estimer son existence, ni celle de son œuvre, à la hauteur de sa légitimité.
Your creative power is YOURS. It is up to you to manifest it in your own terms :
respecting your values, priorities & free will

supporting your posture & knowing how to say « no »
achieving professional & personal success
owning your space & following your rhythm
recognizing & using your resources
believing in your abilities & becoming visible
mastering self-regulation & increasing your resilience
developing trust, courage & wisdom of the heart
establishing material & emotional safety
being able to appreciate, receive, celebrate, relish, enjoy
trusting yourself, others & universal forces
building & nurturing meaningful relationships
counting on your intuition & the voice of your heart
embodying self-esteem & self-love
living in Peace with yourself, your Art & the World.
Ton pouvoir créateur est à TOI. Il t'appartient de le manifester en tes propres termes :
respecter tes valeurs, tes priorités & ton libre arbitre
soutenir ta posture & savoir dire « non »
connaître le succès professionnel & personnel
prendre ta place & suivre ton rythme
reconnaître & employer tes ressources
croire en tes moyens & devenir visible
maîtriser l'auto-régulation & augmenter ta résilience
développer confiance, courage & sagesse du cœur
établir une sécurité matérielle & affective
savoir apprécier, recevoir, célébrer, savourer, te réjouir
te fier à toi, aux autres & aux forces universelles
construire & nourrir des relations signifiantes
compter sur ton intuition & la voix de ton cœur
incarner l'estime & l'amour de toi-même
vivre en Paix avec toi, ton Art & le Monde.
An old story
« Relational » trauma is the repetition of an early painful experience that can affect the quality of an entire life. It is an experience that overwhelms us & that we are unable to assimilate.
For the body trauma means « immobility ». An energy stopped in mid-flight, trapped inside the nervous system. Its information becomes embedded. It installs a state of restraint to the detriment of any desire to expand.
Une histoire ancienne

Le trauma « relationnel » relève de la répétition d'une expérience douloureuse précoce qui peut porter atteinte à la qualité d'une vie entière. C'est un vécu qui nous submerge & que nous ne parvenons pas à assimiler.
Pour le corps trauma signifie « immobilité ». Une énergie arrêtée en plein vol, restée emprisonnée à l'intérieur du système nerveux. Son information s'incruste. Elle installe un état de retenue au détriment de toute volonté d'expansion.
A fight without mercy
From their early age, the people concerned blame themselves for the state of lack they are suffering. They cope with their situation as best as they can, often even successfully. However, the idea persists that they are lacking or have not received enough, or that they will never be enough, because the severity of an inner judgement falls upon the slightest misstep.
One of the tragic consequences of relational trauma is the feeling of not belonging. The impression of being confined to a misunderstood singularity. Behind a functional behavior, a range of compensatory strategies operate which complicate social & family life : anxiety, shame, isolation, depression, indignation, victimhood, pessimism, addictions, irritability, overwork, resignation, perfectionism, etc.
Un combat sans merci
Depuis leur plus jeune âge les personnes concernées se rendent elles-mêmes responsables du manque à être dont elles souffrent. Elles s'en arrangent du mieux qu'elles peuvent, souvent même avec succès. Pourtant l'idée persiste d'être dépourvu ou de ne pas avoir reçu assez ; ou alors de ne jamais suffire, car la sévérité d'un jugement intérieur s'abat au moindre faux-pas.
L'une des conséquences tragiques du trauma relationnel est le sentiment de non-appartenance. L'impression d'être confiné dans une singularité incomprise. Derrière un comportement fonctionnel opère une palette de stratégies compensatrices qui compliquent la vie sociale & familiale : anxiété, honte, isolement, dépression, indignation, victimisation, pessimisme, addictions, irritabilité, surmenage, résignation, perfectionnisme, etc.
A new insight
Transformation is possible through the co-regulating presence of another person : a benevolent relationship in a calm & reassuring context. It is a matter of listening into the implicit memory in order to establish an awake & edifying dialogue from the intelligence of the body. The process restores the initial state of security & frees access to underlying contents without re-traumatizing the system. The accuracy of sensorial reflection & its imbedding into a full Body | Mind | Soul coherence allows to :
create space for resonance & gain clarity

w

elcome the underlying emotion & calm its overwhelming force

integrate old experience from a new insight

increase choice & consider new perspectives.
Un regard neuf

La transformation est possible par la présence co-régulatrice d'un vis-à-vis : une relation bienveillante dans un contexte calme & rassurant. Il s'agit d'ouvrir l'écoute envers des mémoires implicites, afin d'établir un dialogue éveillé & édifiant à partir de l'intelligence du corps. Le processus restaure l'état de sécurité initiale & libère l'accès à des contenus sous-jacents sans retraumatiser le système. La précision du reflet sensoriel & son articulation avec une cohérence Corps | Esprit | Âme permet de :
créer un espace de résonance & gagner en clarté

accueillir l'émotion sous-jacente & apaiser sa force de submersion

intégrer le vécu ancien par un regard neuf
augmenter le choix & envisager de nouvelles perspectives.
I offer the framework & the quality of a Bindung (connection) that encourages the (re)creation of this cohesion. I address this work to dancers & anyone who no longer wishes to endure the effects of a condition that deteriorates their career, burdens their life & destroys their relationships.
If you wish to create a life in tune with your full potential, live a long-lasting career, radiate the full spectrum of your presence & enjoy comforting relationships, feel free to come in touch with me. You can write me in English, French or German.
J'offre le cadre & la qualité d'une Bindung (connexion) qui favorisent la (re)création de cette cohésion. J'adresse ce travail aux danseur/ses & à toute personne qui ne souhaite plus subir les effets d'une condition qui détériore sa carrière, alourdit sa vie & détruit ses relations.
Si tu souhaites créer une vie en phase avec ton plein potentiel, vivre une carrière de longue durée, rayonner du spectre entier de ta présence & jouir de relations réconfortantes, sens-toi libre de me solliciter. Tu peux m'écrire en français, anglais ou allemand.